About Health Unlimited
History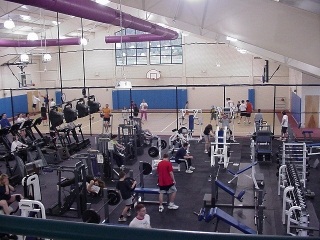 Health Unlimited began by two enterprising couples who were looking for a quality fitness facility in which they, and their community, could be proud, Health Unlimited opened the doors to it's health club in Mount Airy in 1991. In November of 1995, Health Unlimited changed hands to the current owners, a local family with a long history in Mt. Airy. Owner and General Manager Dan Strayton began operating Health Unlimited on November 1, 1995 with the goal of providing an unintimidating, professional and friendly environment in which individuals and families of all ages and fitness levels can improve their health and enrich their lives through exercise. Health Unlimited has managed to do this by bringing to the community quality fitness programs and fun activities including a popular swim lesson and swim team program, high quality strength training and cardiovascular exercise equipment, over 90 group exercise and aerobic classes each week and a friendly, welcoming staff. Over the last 20 years, Health Unlimited has expanded from 4,000 to 35,000 square feet and now provides Mt. Airy with a state-of-the-art fitness and wellness facility.
What Makes a Good Health Club?
For starters, a good health club has:
A wide variety of modern exercise equipment in good working condition
Enough space to work out and feel comfortable moving between rooms
A clean environment including workout equipment and bath/changing rooms
A helpful staff and available trainers
Is welcoming to both youth and adults looking to workout and get fit
Swimming pool(s)
A variety of classes offered including yoga, pilates, zumba, BODYPUMP, water aerobics and more!
A convenient, central location with plenty of parking
Mount Airy's Health Club – Health Unlimited!
Because we fit the criteria listed above, including the convenient location in Mt. Airy, we are confident in our statement that Health Unlimited is the ideal health club for our local residents of Carroll County, Frederick County, Howard County and Montgomery County. Come join in, we're sure you'll agree!
For the health and comfort of all, Health Unlimited asks that members and guests refrain from using fragrances such as perfumes, colognes and similar scented products while visiting the club. We encourage you to visit www.fragrancefreeliving.com for additional information about the concerns and effects associated with these products.