Circuit Room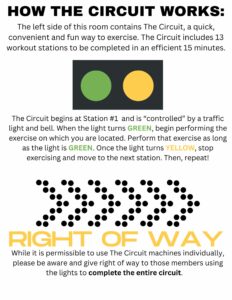 Circuit Room Programs
FIT OVER 50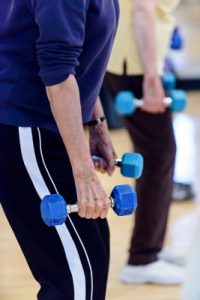 Tuesday & Thursday 8:30am – 9:15am
This class for Active Adults uses the Circuit Room equipment to provide a full body workout.  This class is designed to improve flexibility and balance while emphasizing strength training.
No Preregistration Required and is FREE for members– Just Drop In
Kids' Circuit Class
Mon/Wed 5:30 pm – 6:00 pm w/ Matt 
This class is just for kids' ages 10-15 years old. It is a fast, fun 30 min workout led by our personal training staff. Class incorporates weight lifting on the circuit equipment along with strengthening and conditioning exercises on the Bosu balls, TRX bands, and heavy rope.
No Preregistration Required and is FREE for youth on membership– Just Drop In
How Circuit Room Open Times Work:
The left side of this room contains The Circuit, a quick, convenient and fun way to exercise.
The Circuit includes 13 workout stations to be completed in an efficient 15 minutes.
There are times the room is open for members (ages 12 and up) to use on their own and there are times when the room will be CLOSED for special programs and classes.
If the doors are open, The Circuit is open; if the doors are closed, The Circuit is closed.
While in this room, all participants MUST follow the established program of The Circuit. Move from station to station, completing a single set at each, before moving to the very next station in line. DO NOT skip stations or repeat stations.
The Circuit is "controlled" by a traffic light and bell. When the light turns GREEN, begin performing the exercise on which you are located. Perform that exercise as long as the light is GREEN. Once the light turns YELLOW, stop exercising and move to the next station. Then, repeat!
The Circuit begins at Station #1 for everyone – do not begin by jumping into the middle of The Circuit.
One time through The Circuit should give you a very good workout, however, you may repeat the circuit a second time, if you wish. To do so, you must go to the end of the line, if people are waiting to get on The Circuit, and then start again at #1 when your turn comes up. Maximum times through The Circuit is two (2).