Group Exercise Schedule
Signing up is only required for Fit Over 50, Cycling and BODYPUMP classes.  All other classes are drop-in.
New App ALert!
Effective October 16th, the Mindbody app we've been utilizing for these functions will no longer be available/functional.
Download the App from your app store (see links below) or scan the QR codes in the image to access it quickly and easily.
Members, when accessing your profile, you'll need the first and last name and e-mail address that we have on file for you here at HU. If you are unsure which of these we have for you, give us a call at 301-829-9730.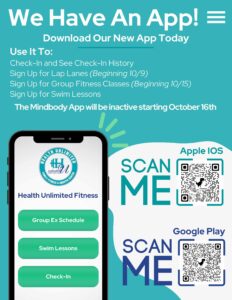 Prefer to use you Computer?  We have you covered.  Check out our New Registration Portal
For the health and comfort of all, Health Unlimited asks that members and guests refrain from using fragrances such as perfumes, colognes and similar scented products while visiting the club.
Health Unlimited's Inclement Weather Policy
If Carroll County Schools are Closed or Delayed Due to Inclement Weather, Group Fitness Classes Will Start at 11:00am.
Group Exercise Schedule