Caught Being Healthy
We want to hear from you!
Do you have a friend or family member who has reached a health or fitness goal that you would like Health Unlimited to recognize?
Nominate them below for our "Caught Being Healthy"  program.  If we choose them we will contact them and confirm they would like to be a part of the program and then we will recognize their accomplishment on our website and your friend will receive a coveted "Caught Being Healthy" t-shirt.
What kind of accomplishments are we looking for?
It can really be anything that was important to the person.
Completing their first Marathon or even their first 5K
Setting a world record in lifting or just personal best
Losing 30 pounds or just that last 5 pounds that they were working so hard for.
See below for just a few of the great Caught Being Healthy stories we have heard so far.
Nominate Someone Below:
Who We Have Caught So Far –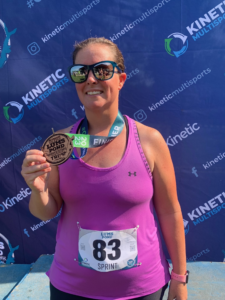 Amanda 

Nominated by her husband, Amanda "has put in a lot of time at the gym, working out multiple times a day, and it shows. She has lost over 40 pounds in the past couple months and just completed her first triathlon in over two years, finishing in 1 hour, 39 mins! She has completely turned her life around and somehow still has time to be a great mother and wife. Her family is so very proud of her!"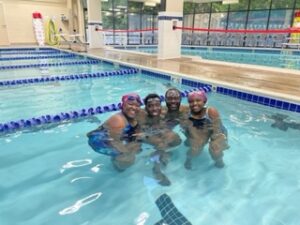 Danso Family 
The Danso family was nominated by our aquatics director, Sheila Marino:
"The kids started out in group lessons to learn how to swim. They moved into private lessons and continued to make great progress. Their parents decided to do private lessons as well. After some private lessons, they decided as a family to do a private family group lesson. All of them have learned to swim!!"
As a result, Benelle will be participating in the high school swim team and Benaiah has found that swimming is a great cross training exercise to training for his track team.
Congrats on this wonderful family goal!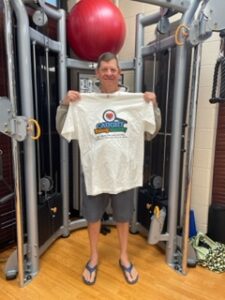 Charlie A. 
Over a year ago,  Charlie suffered from an arch collapse (full tear of left plantar fasciitis in his right foot and found out he tore multiple tendons in his right ankle).  When placed in a boot, he suffered an additional tear.  He was told he needed surgery, but was required to stay off his feet for at least a month (it turned into 70 days!).  This took a toll on someone who had been very active.  In May he started physical therapy and after a month there, the therapist had suggested trying water walking and specific water exercises.  Charlie slowly gained strength and confidence.  By August he was participating in our deep-water classes.  By this time, the exercises and determination were becoming the obvious solution over needing surgery.  Even his doctor was surprised on the healing he made by exercising.
By this past February/March, Charlie was up to swimming 30 miles each month.  He had gained strength, confidence and in his own words, "I could do things".  His hard work and determination along with a guidance of his physical therapist and all we have to offer here, "got his life back".
Charlie has progressed so well without surgery; he now is strong enough to take spin classes and has recently returned to biking outside.  He was proud to share he rode 20 miles!! 

  Judy F., has been so excited to be back in the pool: 
"
During the shut down, I had become very lazy.
I knew that Health Unlimited would be safe to return to 
because our safety is the utmost importance to Dan & the staff. 
It has been wonderful getting back to the pool and seeing friends. I water walk and am excited the water classes have returned. 
I feel very safe. Staff is constantly cleaning. I like that there are cleaning supplies outside the private showers & anti-germ coverings on the door handles.
It is WONDERFUL getting back to Health Unlimited!"

Pratyusha B. is back caring for herself at HU: 
"W
orking out is my form of self-care, and it was important for both my physical and mental health that I come back.  Initially, I wasn't sure what to expect, or whether it was even a good idea to go. But HU has gone above and beyond to keep everybody as safe as possible. The staff are are constantly, and I mean 
constantly
, cleaning equipment, which has been spaced apart. There's also hand sanitizer and wipes everywhere, and new air purifiers. Even the members are doing their part by cleaning up after themselves and maintaining social distance. I'm really grateful to be able to work out without feeling like I'm taking a huge risk. 
It's great to be back!
"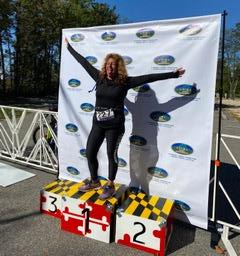 Veronica P.
We Caught Veronica Being Healthy!
Veronica is motivated by challenging herself; doing more than what she thinks she can.  She has lost 80 pounds since 2018.  She is a consistent exerciser at Health Unlimited.  At 54, she refuses to listen to that "negative inner voice".  Way to go Veronica!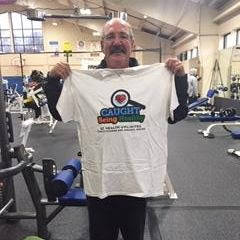 Gary O.
We Caught Gary Being Healthy!
Gary O. is a long time member who just recently retired.  Five months ago he cut his carbs and increased his cardio and strength training. As a result, he is 30 pounds lighter and still going!!  His bloodwork/A1C levels, went from a 6.5 to a 5.6 and the knee pain he used to experience, is now gone!!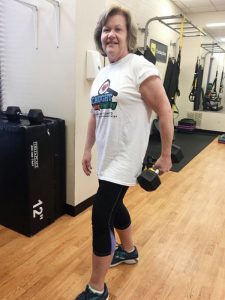 Katie
We Caught Katie Being Healthy!
Long time member Katie D. has had an unbelievable past year.  Look at her "guns"!!  Over 18 months ago she started a consistent routine with personal training.  Working with her trainer Kelly P. has helped Katie see changes in her body.  Each change motivated Katie to keep going. She hired Kelly to work with her on her strength training and came in on her own during the week to do cardio.
Katie attributes motivation, accountability to Kelly and some help from Weight Watchers, to her 30 pound weight loss.  Katie also notes she is not as tired as she used to be and has far more stamina as measured by her longer bike rides on the beach.
Katie loves the fact that her new clothes size does not include a "W" and the weight she has on her driver's license is no lie 🙂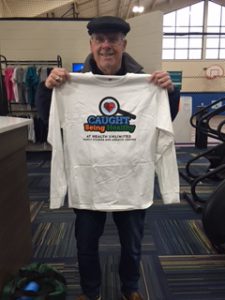 Dick J.
We Caught Dick Being Healthy!
107 Miles!! That's how many miles Dick swam in 2018, averaging a mile a workout.  He said he has been swimming those kinds of numbers for years but never tracked it.  Wow!
Swimming laps has given him purpose for his workouts and he says his main goal is to "stay ahead of the doctor."
What an inspiration!!  Keep up the great work, Dick!!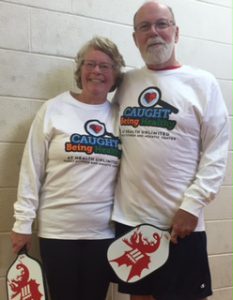 Wendy and George
We "Caught" Wendy and George Being Healthy!
Wendy and George joined Health Unlimited years ago after looking for a health club that had an AED.  George had a heart condition.  Both a working AED and having a fully trained staff available gave Wendy the confidence this was the right place for them.
Both Wendy and George had their own workout routine and for years continued doing the same thing.  They found their bodies were not changing and asked our fitness staff for help.  During their free sessions, they were advised to "switch things up" .  Not only did they switch up their strength training exercises they incorporated Pickleball as their cardio.
Over the course of 4.5 months Wendy lost 23 pounds and George lost 33 pounds.  Wendy also used the support and structure of Weight Watchers.  George however just did what Wendy did.  The elimination of sugar from the house made a huge difference.  They contribute their success not only to the support of one another, but also from the staff encouragement here at Health Unlimited.
Wendy says now  "I have a waist!" and George says  "I can button my suit!"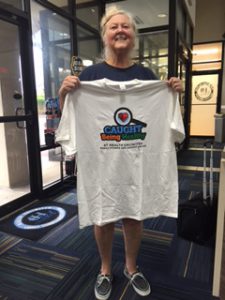 Linda
We "Caught" Linda Being Healthy!
Despite spinal surgery, Linda was still struggling with pain.  Her surgeon suggested water therapy.  After her work at PT, she came to Health Unlimited and continued to use the skills she gained from her therapist.  After 5 months, working out 3 times per week at Health Unlimited and a session to up her workout with  Aquatics Director; Valencio Jackson, Linda's core has never been stronger!  As a result she takes no pain meds and working out is part of her life.  She enjoys all the people here, has fun and does not to pursue any other next steps, like surgery or shots for her pain.  We all enjoy the positive attitude she carries with her all the time. 🙂  Way to go Linda!!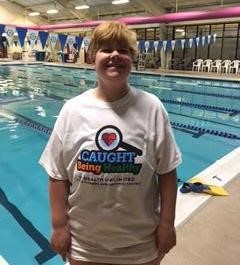 Kristine
We "Caught" Kristine Being Healthy!
Kristine was nominated by fellow member (and Caught Being Healthy alum) Laurie A.:
"Kristine has an awesome story. She started her healthier lifestyle in January 2017, but her exercise routine with her gym membership in October 2017. She comes nearly daily and can be found on circuit equipment or in the pool before dawn! (Larry Davidson, lifeguard knows her well from her extraordinary accomplishments in the there.) Kristine has lost over 170 pounds! And she and her father even came out to try an archery class with me last week! One of her next goals is to lose the walker she uses!"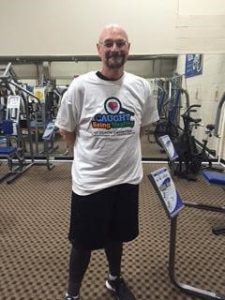 Paul
We "Caught" Paul!
Paul has lost 126 pounds in over 3 years!  Exercise became the focus this past December for  Paul, who now works out 3-4 days per week.  He uses tracking devices like My Fitness Pal and has found that tracking calories is very helpful to him. He loves the energy he has and says "I have never felt better in my life!"
What an inspiration!!  We are impressed and proud – way to go Paul!!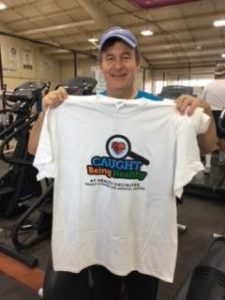 FRED.
We "Caught" Fred!
Fred was nominated by our staff for his impressive results and the significant health outcomes he has seen:
Fred has dropped 53 pounds since this past October!!!
He is off all his diabetes medications and down on 2 other meds.  Fred changed his diet and eliminated white pasta, breads, soda and potatoes (sugar free popsicles were his saving grace:).
He exercises 5 days per week.
The biggest news…………….Fred was supposed to have knee replacement surgery in October, but because of his weight and diabetes he was not a candidate.  Fast forward to today, because of his weight and strength and no diabetes meds, he no longer needs knee replacement.  Way to go Fred!!!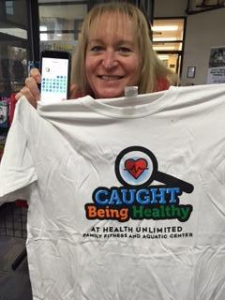 Janet B.
We "Caught" Janet B.!
Janet was nominated by one of her workout partners/motivators:  "[Janet] has been working hard and has lost 20+ lbs. She challenged me to workout every day in December with our MyZone and get the dot on our calendar. Janet killed it in December and worked out EVERY DAY in December and is continuing it into January!"
Janet is very motivated by her MyZone heart rate monitor that helps keep her accountable and shows her just how hard she has worked and all that she has accomplished. Having that "dot" show up on her MyZone calendar, indicating that she did a workout that day, is her daily goal and she challenges herself to earn more MEPs (Myzone Effort Points), too. Congratulations, Janet, we're proud and impressed!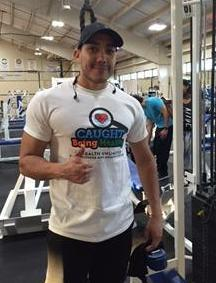 Eddie
We "Caught" Eddie!
About 3 years ago Eddie began scheduling time in his life to focus on getting here [to the health club].  He primarily focused simply on getting here 5 out of 7 days, at first, and then eventually 7 of 7 days. He didn't worry so much about what he did, he simply got here. Once he established this routine, or habit, and he started seeing results, he became more motivated than ever. During this time, he utilized the Bod Pod as an ongoing measurement tool.
With each assessment, he showed improvements not only in weight loss, but in the percent decrease of his body fat.  As of Monday, January 22nd, his Bod Pod measurements showed a decrease in 40 pounds of Fat Mass and a decrease in body fat percentage from 40% to 19%.  His resting metabolic rate now shows him as a fat burning machine! He has seen that it takes more than just cardio exercise to accomplish this; his strength training has helped transform his body. It is his commitment to the mental side of it, however, that has helped him the most. He decided he was going to do this and he has – congratulations, Eddie, you are an inspiration!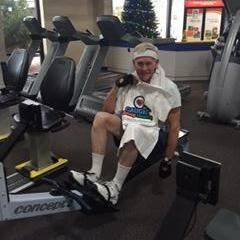 FELIX
We "Caught" Felix!
We recently "Caught" Felix not only being Healthy, but crossing the 5 million meters mark on our rowing machine!! It has taken Felix 7 years rowing 5,000 meters at a time to reach this goal. He often wears shirts from Concept2 rowers that commemorate his reaching different milestones and now he gets a shirt from us!
We asked him what is he going to do now that he has reached this goal, he said he is going to continue to keep rowing but he also has started playing Pickleball here so that will take up some of his time as well. Congrats, Felix, and keep moving!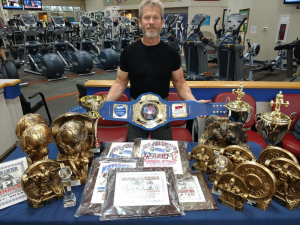 PAT R.
Pat is a lifelong exerciser and one of Health Unlimited's original members. So how does someone who has been lifting nearly 50 years stay motivated? He starts competing in international weight lifting competitions. That is a just what Pat did 4 years ago when he joined the World Natural Power Lifting Federation and currently holds multiple world records in power curl despite often being the oldest person competing in his weight class. In addition to his world records, Pat has won countless power curl, strict curl and bench press titles (see photo). Often setting new goals and seeking out competition is a great way to stay motivated. Good Job, Pat, and keep kicking butt!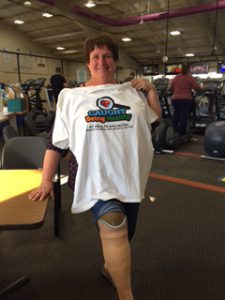 Debbie B.
A motorcycle accident and terrible injury hasn't stopped Debbie from continuing to become the best Debbie she can be! Her friend Peta has nominated Debbie for our Caught Being Healthy recognition program because she recognizes the obstacles that Debbie has faced and "she keeps coming to the gym and working hard." Debbie has been an inspiration to others and enjoys sharing her inner strength with those around her. She has gone from simply using the showers here to cardio workouts on our SciFit recumbent steppers to classes like our Fit Over 50 and our Strong-n-Balanced  – she is in a good place, is an encouragement to us all and has now been Caught Being Healthy! Way to go Debbie!