What's Happening at Health Unlimited?
We have an App!
Members and guests can access important functions including lap lane reservations, group exercise class reservations, swim lesson registration, and more! Download the App from your app store and access it quickly and easily.
We Have a New App!
Download the App from your app store (see links below) or scan the QR codes in the image to access it quickly and easily.
Members, When accessing your profile, you'll need the first and last name and e-mail address that we have on file for you here at HU. If you are unsure which of these we have for you, give us a call at 301-829-9730.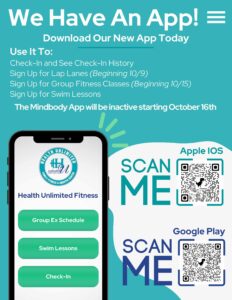 We will begin using this new app on Monday, the 9th, for the following week's lane reservations and we will begin using it for group ex class sign-ups on Sunday, the 15th.
Effective October 16th, the Mindbody app we've been utilizing for these functions will no longer be available/functional.
We will also be using this new app and software portal for our next round of swim lesson registration. See info about that on the swim lesson page!
Prefer to use you Computer?  We have you covered.  Check out our New Registration Portal