PICKLEBALL NOW AT HEALTH UNLIMITED
MONDAYS AND WEDNESDAYS 10:30AM – 1:30PM
SIGN UP IN ADVANCE AT THE FRONT DESK
Available Time Slots:  
10:35am – 11:05am This time slot is reserved for players who don't have a partner. 
11:10am – 11:40am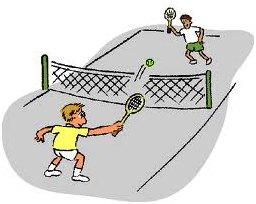 11:45am – 12:15pm
12:20pm – 12:50pm

12:55pm – 1:30pm Open Play Only – No Reserved Spots
You can sign up for only one time slot per day and no more than 1 week in advance.  To sign up call (301) 829-9720 or stop by the Front Desk.  Look for additional time?  Call the day of to sign up for any open time slots.    
PICKLEBALL IS LIKE OVERSIZED PING PONG PLAYED ON A SMALL COURT WITH A TENNIS HEIGHT NET.  IT'S A PADDLE SPORT FOR ALL AGES AND ALL ATHLETIC ABILITY LEVELS. IT HAS VERY SIMPLE RULES AND IS EASY TO LEARN AND PLAY.
Find out more about Pickleball and watch some videos at www.usapa.org