Caught Being Healthy
We want to hear from you!
Do you have a friend or family member who has reached a health or fitness goal that you would like Health Unlimited to recognize?
Nominate them below for our "Caught Being Healthy"  program.  If we choose them we will contact them and confirm they would like to be a part of the program and then we will recognize their accomplishment on our website and your friend will receive a coveted "Caught Being Healthy" t-shirt.
What kind of accomplishments are we looking for?
It can really be anything that was important to the person.
Completing their first Marathon or even their first 5K
Setting a world record in lifting or just personal best
Losing 30 pounds or just that last 5 pounds that they were working so hard for.
See below for just a few of the great Caught Being Healthy stories we have heard so far.
Nominate Someone Below:
Who We Have Caught So Far –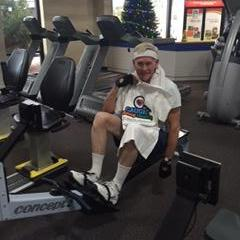 FELIX
We "Caught" Felix!
We recently "Caught" Felix not only being Healthy, but crossing the 5 million meters mark on our rowing machine!! It has taken Felix 7 years rowing 5,000 meters at a time to reach this goal. He often wears shirts from Concept2 rowers that commemorate his reaching different milestones and now he gets a shirt from us!
We asked him what is he going to do now that he has reached this goal, he said he is going to continue to keep rowing but he also has started playing Pickleball here so that will take up some of his time as well. Congrats, Felix, and keep moving!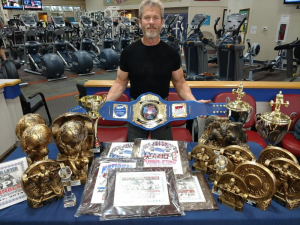 PAT R.
Pat is a lifelong exerciser and one of Health Unlimited's original members. So how does someone who has been lifting nearly 50 years stay motivated? He starts competing in international weight lifting competitions. That is a just what Pat did 4 years ago when he joined the World Natural Power Lifting Federation and currently holds multiple world records in power curl despite often being the oldest person competing in his weight class. In addition to his world records, Pat has won countless power curl, strict curl and bench press titles (see photo). Often setting new goals and seeking out competition is a great way to stay motivated. Good Job, Pat, and keep kicking butt!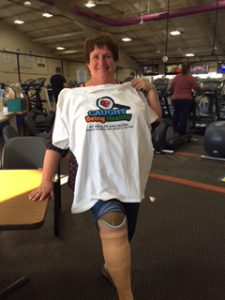 Debbie B.
A motorcycle accident and terrible injury hasn't stopped Debbie from continuing to become the best Debbie she can be! Her friend Peta has nominated Debbie for our Caught Being Healthy recognition program because she recognizes the obstacles that Debbie has faced and "she keeps coming to the gym and working hard." Debbie has been an inspiration to others and enjoys sharing her inner strength with those around her. She has gone from simply using the showers here to cardio workouts on our SciFit recumbent steppers to classes like our Fit Over 50 and our Strong-n-Balanced  – she is in a good place, is an encouragement to us all and has now been Caught Being Healthy! Way to go Debbie!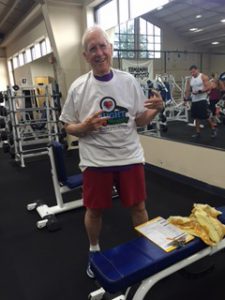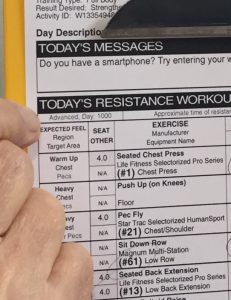 Scott W.
Scott W. is a long time member who had been going up and down with his weight loss.
He decided to try the free 4 week Trial of ActivTrax and now 1000 workouts later, he is maintaining his weight loss and more motivated to keep working out consistently.  Congratulations Scott!!  1000 workouts that are different each time and making a difference in your motivation, fitness and weight maintenance.
Deb S.
Deb S. has been a member for over 2 years and after using Activtrax has lost 9 pounds, re-distributed her weight and is stronger.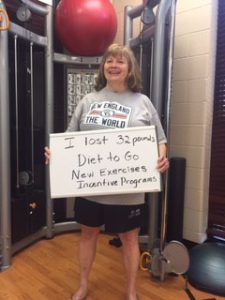 Liz S
Liz S. has been a member for over 2 years.
With a variety of exercises offered at the club, Diet to Go and our new member incentive program, Commit to Be Fit, Liz lost 32 pounds.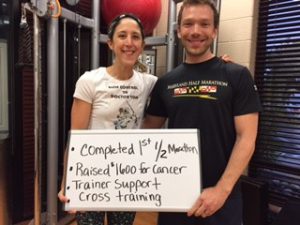 David and Sarah J.
David and Sarah J. have been members since 2014.
They prepared for their first half marathon at Health Unlimited. Their free fitness training sessions helped them with techniques for the race. Cross training with a variety of exercises from the trainer helped them complete the race. They raised over $1600 for cancer research, a cause that is very dear to their hearts.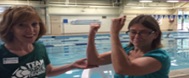 Karen W.
Karen W. has been a member since 2009.
She loves the variety of exercises and workouts through our land based group fitness classes.  Joint problems forced her to seek a "plan B".  The pool at Health Unlimited allowed her to continue to build her strength and tone.  She toned so much that her coworkers nominated her to be the "arm model" for a publication.  Karen is so much stronger and looking good!!