Noncompetitive Team/Clinics

Swimmers who have completed our "Be a Swimmer" swim lesson program have a number of options to continue to refine their strokes here at Health Unlimited.
Swimmers looking for a limited commitment should consider our Swim Clinics. They meet just one day a week and are just 8-10 weeks in length.
The "Hurricane Noncompetitive" is a great step up from the Swim Clinic. The Noncompetitive Team meet January – March on Tuesday and Thursday Evenings.
Recent Meet Results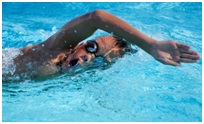 Health Unlimited team coaches will be coaching weekday and weekend swim clinics for youth looking to refine and develop the 4 competitive strokes. Clinic participants must have a Coach evaluation, at least 1 season of swim team experience, and legal in 3 of 4 strokes - able to swim 25yds of freestyle, backstroke, and either breaststroke or butterfly.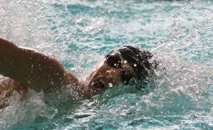 Health Unlimited coaches will be conducting a 8-week training session for swimmers (ages 9-17yrs) getting ready to participate on a summer swim team. Eligible swimmers can be current Sr Team participants, coach-approved swim clinic participants, or other swimmers (members and non-members) who have been evaluated and approved by one of the coaches.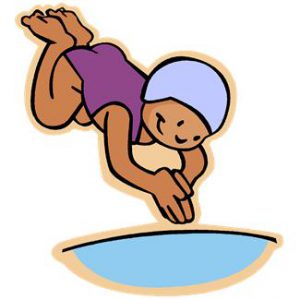 This is HU's youngest segment of the Non-competitive team swimming program. It is for kids ages 6-9yrs, and geared towards those interested in starting or continuing to develop their skills in a non-competitive swimming environment. Emphasis will be placed on becoming more proficient with the 4 competitive strokes, properly executing shallow dives, proper starts and turns, as well as becoming familiar with swim practice routines.
HU Hurricane Coaching Staff:
The HU Hurricanes coaching staff consists of USS and ASCA certified coaches dedicated to developing each individual athlete to his/her maximum potential in a motivating and fun team environment.
HEAD COACH: Karen Heinz
This is Coach Karen's 5th year at the helm of our Non-competitive programs. She has been teaching group and private lessons for 9 years and has just completed her 6th year at Cattail Creek Country Club summer swim team. She is also very active in the HU Masters program, not only as a participant, but coaches as well. Coach Karen has been swimming since the age of 8 moving through the ranks of summer teams, high school and college programs. She enjoys working on building blocks of a lifetime sport and working with children. Karen has two daughters who are competitive swimmers as well.
ASSISTANT COACH: Stefany Tymoch
Starting with summer team then quickly moving onto club team swimming for MAC. She swam for MAC thru high school. She held several high school records until her sister came along and stole them! After college, she picked back up swimming by practicing with a masters club in Chicago. After returning to Frederick, she taught swim lessons at Health Unlimited for a number of years. In 2012, she returned to Health Unlimited to coach Novice and Clinic as well as teach more swim lessons
LEAD COACH – Jr. Team: Sheila Marino
Coach Sheila has over fifteen years experience coaching swim teams at various levels.   She has coached YMCA, high school, summer and club teams.  She currently works for FOX swim club as an assistant coach, for Nottingham Marlins Swim Team (a local CMSL summer team which she founded in 2003) as a head coach, and at Health Unlimited as a swim instructor.  Her certifications include: ASCA level 2, Principles of YMCA Competitive Swimming and Diving, and AAU–PCA level 3.  She is currently working on completing ASCA level 3.  Her swimmers range from beginner to nationally competitive.  Her focus always includes teaching proper stroke technique, and then increasing endurance and speed.  Coach Sheila's philosophy is based on the goals to foster the love of swimming, while learning life skills and growing as a person and as an athlete.
Lead Coach of Sunday Swim Clinics: Michele Firlie
Coach Firlie has been part of the Health Unlimited Aquatics Department for the last 4 years. In 2013, she became the Lead Coach for the Health Unlimited Master's program.  She is currently a Level 2 certified coach for Masters swimmers; certified Adult-Learn-to-Swim Instructor; and a Level 1 certified coach for Age Group swimmers.  Other programs that she is actively involved in at Health Unlimited are non-competitive and clinic programs; as well as a swim instructor for adults and children. During the summer months, she coaches as a local community pool. Coach Firlie enjoys swimming, running, baking and spending time with her family in her spare time.
Pools serving Frederick County
Pools in Carroll County
Pools serving Howard County